The first half of 2017 saw the Tasman Tempest, Ex-Tropical Cyclone Debbie, Ex-Tropical Cyclone Cook and a very wet July trigger landslides all over the country – our landslide scientists have struggled to keep up with recording all of these landslides, on top of their continuing work mapping landslides from the 2016 Kaikoura earthquake.
The tables turned later in 2017 with extended dry periods over parts of the country through spring and into summer, meaning much less land heading downhill.
September slides
A house was damaged in Charteris Bay on Banks Peninsula when heavy rain on 2 September caused a 15 metre wide slip, pushing a garage into the house.
A slow-moving landslide at a construction site in Wanaka made a break for Lake Wanaka, but fell just short, closing Lakeside Road on 8 September.
On 19 September a huge landslide next to the Mangaokewa River, about 20km from Te Kuiti, covered 12 hectares of farmland and river (that's around 12 rubgy fields) in about 1 metre of mud. The speed and volume of the landslide carried rock and dirt over the river, blocking it at Mangaokewa Road for two days. A woman was trapped in her car by the landslide, and it also killed six cows, 40 ewes and 60-70 lambs.
Birkenhead landslide
Auckland was in the landslide spotlight in October when a 2x2 metre sinkhole opened up on Kingseat Road in rural South Auckland.
A day later, on 10 October, the rear section of Rawene car park in Birkenhead collapsed. The car park had been closed off by Auckland Transport for safety reasons three weeks earlier after minor subsidence of an already existing crack was noticed in the fill which made up the back of the carpark. This crack continued to open until the fill collapsed on 10 October, taking a significant part of the carpark with it.
The landslide continued to slip intermittently through October and into November, when on 28 November a large amount of land slipped, this time taking some machinery and a laneway with it. Two days later, on 30 November, a second landslide occurred next to the original landslide, taking the headscarp (top edge) of the landslide closer to Birkenhead's Mokoia Road.
Auckland Council is currently working with geotechnical consultants to understand the geology and the causes of the slip so they can decide what to do with the site. You can keep up-to-date with what is happening on the Auckland Council website.
Back Beach cliff collapse
A large landslide fell from coastal cliffs at Back Beach in New Plymouth on 15 November. The beach is very popular and a landslide this big could have injured or killed someone on the beach below the cliff, but luckily no one was injured.
Roxburgh debris flows
Thunderstorms caused heavy downpours across the central South Island on 26 November, and Roxburgh in central Otago was particularly hard hit. Up to 70 mm of rain was recorded in 2 hours in Roxburgh (that is a lot!), which triggered many landslides in the schist rock of Reservoir Creek, directly above Roxburgh, and Black Jacks Creek, 3km to the south.
The material from these landslides combined with flood waters to create debris flows, one of which travelled through the town carrying boulders, trees and other bits and pieces including sections of irrigation pipe.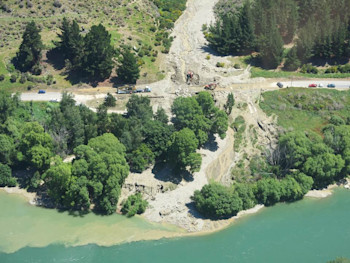 Eight households were evacuated and SH8 in and south of Roxburgh was covered with debris. Roxburgh School was damaged and closed for two days, and the pipe from the town's water reservoir ruptured so water tankers and portaloos were brought into town.
Cyclone Fehi in late January 2018 caused more debris flows in these creeks, once again blocking SH8.
Road closures
Landslides and rockfalls from September to December also twice closed SH2 in Karangahake Gorge in the Bay of Plenty (one of which a motorist drove into, but wasn't injured), SH11 between Paihia and Kawakawa in Northland, SH12 near Omapere in Northland, Tiniroto Road near Gisborne, SH2 over the Rimutaka Hill, SH1 between Oaro and Kaikoura, SH8 through the Kawarau Gorge, SH6 from Murchison to Inangahua, SH7 through the Lewis Pass, SH73 at Waimakariri Bluffs, SH6 between Fox Glacier and Haast, and the Crown Range Road.
We'd like 2018 to start off nice and quietly, so that our landslide scientists can catch up on the debris flow of work that 2016 and 2017 deposited on them. Meanwhile, in a few months we'll be starting a new, more graphical way of reporting on New Zealand's landslides, but we will continue to keep you updated on our landslide responses and science reports through our GeoNet news stories.
Science contact: Brenda Rosser, GNS Science.
GeoNet is required to regularly report on landslide events in New Zealand as part of our funding arrangements with the Earthquake Commission.