Raoul Island, a mysterious place that is useful for GeoNet's data collection
For those of you unsure of your South Pacific geography, Raoul is a subtropical island located in the Kermadec Islands, a group of summits of large volcanoes that have emerged from the sea along the Kermadec Ridge.
From a geological perspective Raoul Island is fascinating. The Kermadec Ridge stretches approximately 900 km north-east of New Zealand, and the chain of islands have formed over time through uplift and volcanism caused by the collision of the Pacific and Australian tectonic plates.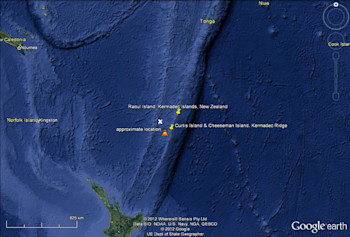 Raoul Island's emergence from the Pacific Ocean was rapid in geological timeframes and the island has been the source of forceful volcanic eruptions during the past several hundred thousand years, mostly from Hutchinson and Moumoukai volcanoes.
Moumoukai stopped erupting about 4000 years ago, and volcanic activity since then has been mostly dacitic eruptions from Raoul and Denham Bay calderas, which are now the main volcanic features on Raoul. 'Dacitic' refers to the name dacite, which is the predominant volcanic rock type that now characterises Raoul Island's geology. When this rock is heated and put under pressure the magma it creates is quite viscous - it has a thick, sticky consistency somewhere between a solid and liquid, good at trapping gas bubbles that lead to explosive eruptions. For this reason, Raoul Island is an interesting place for scientists to study volcano dynamics that are very different to volcanoes on mainland New Zealand.
As well as being an ongoing volcanic hot-spot, Raoul Island is one of New Zealand's northern-most islands and provides a very useful seismic site for GeoNet, including strong motion, short motion and GPS instruments.
The Raoul Island sites provide accurate data points to triangulate earthquakes recorded on our mainland-dominated network, a data quality 'cross reference point' if you like. GPS locational data collected by GeoNet also provides useful insight into the dynamics of plate movement occuring along the Kermadec Ridge, a zone of subduction where tsunamis can be generated.
Two sites within Raoul Island's near shore environment provide GeoNet's northern-most tsunami monitoring sites, which enable a more rapid response to distant source tsunamis originating from the north and north-east of New Zealand. In terms of on-island hazards, Raoul and Denham Bay calderas are particularly active vents that need constant monitoring to ensure the safety of Department of Conservation staff living on the island.
The journey north
Our most recent expedition to Raoul Island set out from Devonport on 26 February, with three GeoNet technicians - Tim 'Iceman' McDougall, Kris 'Maverick' O'Brien and Cameron 'Goose' Asher - aboard the HMNZS Canterbury, New Zealand's premiere multi-role Navy vessel. Along with them, three ocean divers and two members of GNS Science's Volcanology Department, Dr Bruce Christenson, a Senior Volcanic Fluids Geochemist and Jackson 'Mule' Shanks, a plucky Volcanology Technician, were in cahoots.
The team from GeoNet and GNS couldn't have done it on their own, however; the logistics of getting to and carrying out work in such an isolated part of the South Pacific always requires team work! Big thanks go to the Department of Conservation who helped a lot with logistics, MetService who supports GeoNet on the island by providing a building to protect our equipment, and the New Zealand Army, Navy and Airforce who helped us get to Raoul, and in getting all the gear onto and off the island. This is no mean feat!
Setting sail from Auckland the overall journey north took three days. There is always a slight air of trepidation in the days leading up to the journey to Raoul Island, because it can be a pretty rough stretch of water between Auckland and the Kermadecs. However, the journey was enjoyed by all, the seas were calm, the food was good and we could hold it all down due to a striking lack of seasickness. All eight members of the team shared a bunkroom, thankfully only three people snored, or was it two?!
We made a brief stopover at Macauley Island, a rugged volcanic island in the ocean 110 km south west of Raoul, to survey the GNSS mark located here using a very accurate GPS antenna and receiver. With high cliffs the island is difficult to access using a boat, so the techs were winched onto and off the island by an Airforce Seasprite. The GNSS mark is used as an accurate reference point to study the deformation of the earth's crust along the Kermadecs, which provides accuracy for GeoNet's data references and is helping to advance scientific understanding of the rate and direction of plate movement (or 'deformation', which includes upward and downward movement) along the Kermadec trench and ridge.
Following this two hour interlude at Macauley Island the team re-boarded HMNZS Canterbury and the journey to Raoul Island continued.
On island goings-on
The phrase 'sub-tropical island' usually invokes the beaches, palm trees and tropical fruit punch of Rarotonga and Fiji travel brochures. But Raoul Island is kind of the opposite of golden sand-clad island images.
Raoul is incredibly beautiful for other reasons. The thick sub-tropical coastal forest, abundance of birdlife and steepness of the terrain makes for a magical setting; almost the whole island is fronted by high volcanic cliffs dropping into rugged coastline. This terrain makes for a seriously difficult logistical challenge when it comes to getting people and equipment onto the island and to GeoNet's site locations.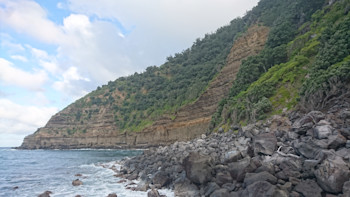 After three days at sea, the team landed on the island aboard Rigid Hulled Inflatable Boats (RHIBs) and got straight to work (well, pretty much, once they'd lost their sea legs). There is only a rudimentary 'wharf' at Raoul Island, and it's more of a concrete pad just above sea level, so there's not much room to move.
To get equipment from the wharf and up the cliffs to head inland to GeoNet's seismic sites, the techs use a 'flying fox' of sorts, as you can see in the image below. Fortunately all supplies and equipment were choppered onto and off the island on this this trip, thanks guys!
We worked at three locations across the island. First up, we went to Boat Cove and replaced the tsunami sensors and the protective knuckling that ensure the cable run to the sensors remains intact. We also poured a (very large) concrete pad next to the MetService building for a satellite dish that will be installed on the next trip, which will greatly improve the reliability of communication to Raoul Island.
The next tasks took us inland, where we performed site maintenance at our communication hub on Moumoukai Peak and at our volcano monitoring equipment at Green Lake.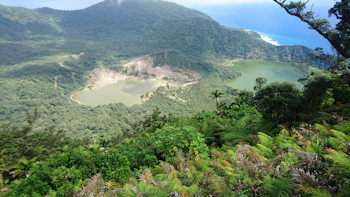 You'd think that once at the top of the cliffs, things might flatten out a bit and get much easier, but to get inland is still a challenge! The rough tracks mean that transport around the island is by 'mules', otherwise known as side by sides, kindly provided by the Department of Conservation. There are approximately 11 kms of 'road' on Raoul and the rest of the island is accessed by walking tracks. Travelling Raoul Island's terrain is certainly an adventure not advised for the faint hearted.
The final task was to replace the anodes on the tsunami gauge at Fishing Rock, which will help prevent the tsunami sensor cabling corroding. As you can probably imagine, the salty exposed conditions at some sites is hard on equipment. Regular maintenance is certainly required to ensure sites stay on-line.
In reflection our recent trip to Raoul Island was a success, but as usual, due to Raoul's exposed position within the South Pacific, it was a race against time to get work completed before harsh weather closed in. Unfortunately, on this trip an injury to one of the Navy personnel meant that we had to return to New Zealand a day early.
Once again our journey south through the South Pacific was a pleasant one and we arrived back in Devonport to a hero's welcome, followed by a custard square to celebrate.
I would like to take this opportunity to thank all the parties involved - the Royal New Zealand Navy, Airforce and Army, the Department of Conservation and Metservice. I must also mention my mission accomplice, Kris 'Maverick' O'Brien, for helping me craft this story.