The National Advisory issued at 2:48pm following this morning's earthquakes near the KERMADEC ISLANDS REGION is cancelled.
The advice from GNS Science, based on ocean observations, is that the Beach and Marine threat has now passed for all areas.
Strong and unusual currents and unpredictable surges will continue for up to another 24 hours. People should remain vigilant and take extra precautions with regards to beach and ocean activities.
Strong currents and surges can injure and drown people. There is a danger to swimmers, surfers, people fishing, small boats and anyone in or near the water close to shore.
For more information on the M8.1 earthquake, go here
For a local-source tsunami which can arrive in minutes, there is not enough time for an official warning, it is important to recognise the natural warning signs and act quickly. Remember, LONG or STRONG, GET GONE.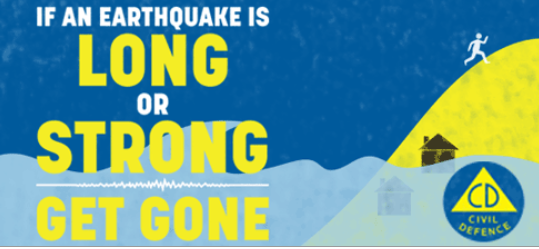 If there is earthquake shaking, drop, cover and hold. Protect yourself from the earthquake first, then act as soon as the shaking stops.
If you are near the coast and experience any of the following:
- Feel a strong earthquake that makes it hard to stand up, or a weak rolling earthquake that lasts a minute or more.
- See a sudden rise or fall in water level.
- Hear loud and unusual noises from the water.
Move immediately to the nearest high ground or as far inland as you can, out of tsunami evacuation zones. Do not wait for official warnings.
Once you have evacuated, follow official advice from your local Civil Defence Emergency Management Group about when it is safe to return to tsunami evacuation zones. Do not return until an official all-clear message is given by Civil Defence Emergency Management.
Know what to do?
NEMA have a great website with information on what to do before, during and after a tsunami. You can also search your address to find out if it is in a tsunami evacuation zone.
Has your property suffered damage?
If you've got damage from the recent tsunami, care for your whānau's safety first, take photos of any damage, and call your private insurer. Find out more about insurance and claims on the Toka Tū Ake EQC website.